Koç Sağlık Yanımda is a multidisciplinary and professional healthcare organization that provides services wherever our patients and their relatives want, with the knowledge, experience, quality, and assurance of the Koc Health brand.

Koç Sağlık Yanımda, we are pleased to provide diagnosis, treatment, care, rehabilitation, and mental health services tailored to your health needs at home, at work, "wherever you are" meaning wherever you would like. And we are with you 24/7 without any time restrictions.

We provide our services such as on-site doctor, nurse, and caregiver, bloodletting, radiology procedures, injection, dressings, diabetic patient education, physical therapy, newborn care, baby and mother care where you feel peaceful and safe, without physically bringing you to the hospital. We come wherever you are for your health.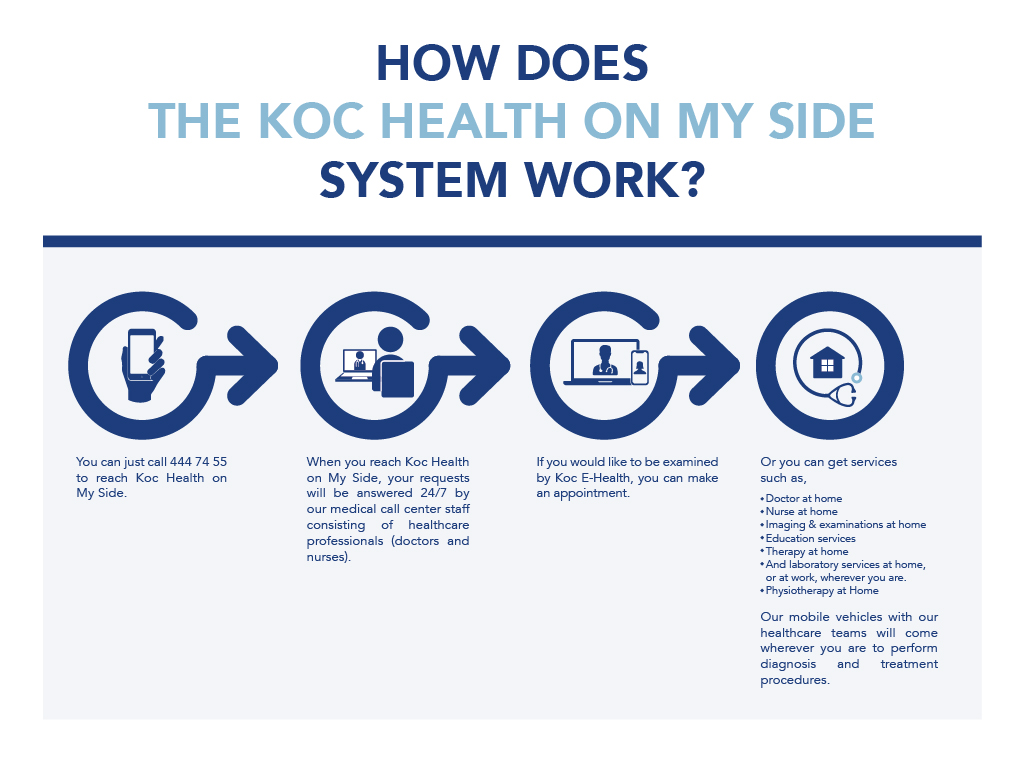 OUR MISSION
To present current medical approaches in an ethical and reliable environment.
OUR VISION
To maintain our respectability by continuously improving quality teaching, healthcare services we provide through our medical staff providing healthcare services in line with academic values and competent personnel.

OUR VALUES
Patient safety is our priority.
Our target is efficient and quality patient care and treatment.
We conduct all applications in line with the principles of respecting the ethical values, being scientific and continuous improvement.
Our self-review is based on a measurable and reviewable system.
We create professional development and continuous education opportunities for our human resources.
Our social responsibility is to ensure transparency, reliability and sustainability in educational activities and healthcare services we deliver.